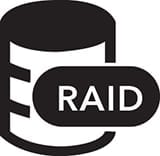 RECOVERY FOR: RAID (Redundant Array of Independent Drives)
Typically an expensive and complex process, Cherry Systems is highly successful in recovering data from RAID (Redundant Array of Independent Drives) systems used by small, medium and large corporations.
Cherry Systems' highly qualified personnel will diagnose the extent of the damage. These devices include:
RAID0
RAID1
RAID10
RAID5
RAID50
Whether the loss is caused by physical, electronic, or accidental causes,
Cherry Systems is YOUR trusted Data Recovery Expert for RAID Data Recovery.
These are technologically complex environments, which require highly trained personnel to safely and successfully recover data. First requirement is that all the drives associated with the failed RAID must be brought to our lab for any successful data recovery to occur.
Cherry Systems Data Recovery has an impeccable reputation for it's data recovery services and is highly recommended by manufacturers, IT companies, and satisfied customers.
Cherry's Standard Process for RAID Data Recovery Services:
FIRST: Evaluation
Since multi-drive RAIDs are more complex, they will require a bench setup.
The bench process will provide a final price quote which is dependent upon several factors, including volume size type of file system, number of drives included and their physical condition.
SECOND: Discovery Completion
Failed drives will be cloned to another media. At the completion of this step, the client will be provided with a list of recoverable files and the cost to complete the recovery.
Client will have time to determine whether the recovered files on the list are acceptable to proceed with the data recovery process.
THIRD: Upon completion of the recovered file list review
If the client agrees to proceed with the Data Recovery Process, the data will be recovered and downloaded onto the designated media.
Cherry Systems Data Recovery supports most manufacturers of these drives, and our experts are highly knowledgeable in recovering lost and damaged data from these media devices.
Some high-end manufacturer's for storage systems that Cherry Systems supports and has experience handling are Dell Storage, Dell Powervault, Dell Compellent, EqualLogic, EMC, HP Store products, Isilon, Lefthand Networks, and NetApp.
Throughout this RAID recovery process, Cherry's clients may be assured that the highest standards of quality, protection and security are employed on their behalf by our highly qualified team of experts.
What restores valuable RAID files?
THE DATA RECOVERY PROCESS BY CHERRY SYSTEMS
Let us help you. Contact us now.